Farm Innovator 'Subash Sharma'
Farm Innovator 'Subash Sharma'
Details
Subscribe to Krishi.tv
Land preparation & Seed selection - Farm Innovator Subhash Sharma 1
Seed Sowing - Farm Innovator Subhash Sharma 2
Intercrop cultivation - Farm Innovator Subhash Sharma 3
Crop Rotation - Farm Innovator subhash sharma 4
Water needs for other organisms-Farm Innovator Subhash sharma 5
weeding at initial stage - Farm Innovator Subhash sharma 8
Green manure - Farm Innovator Subhash Sharma 9
soil fertility with biomass - Farm Innovator Subhash Sharma 10
Water conservation & Soil Fertility - Farm Innovator Subhash Sharma 11
Infrastructure @ field - Farm Innovator Subhash Sharma 12
Water conservation with trenches - Farm Innovator Subhash Sharma 13
Field Ants- Farm Innovator Subhash Sharma 14
Ants role in cross pollination - Farm Innovator Subhash Sharma 15
Rain Water Harvesting-Farm Innovator Subhash Sharma 17
How to grow organic pumpkins - Farm Innovator Subhash Sharma 16
Mr. Subash Sharma – nature farmer
Involved in self-research to find solutions to farming problems through nature

"Natural farming fulfills all basic requirements of living organisms precisely food, air and water. It is not limited to only human being instead applies for every alive soul in this universe," says Mr. Subash Sharma, farmer and researcher.
When he started natural farming in 1994 he didn't knew much about its' practices but he decided to flow with nature and started observing everything closely. He was focused on doing farming with minimum expenses and better yield. "I also decided not to buy any farming input outside the farm. I wanted independence from outside sources in every way," he adds. Mr. Sharma is stationed at Tiwasa village, Yavatmal, Maharashtra.
His farm is 17 acre in which 13 acre is used for growing crops using natural and contour farming while rest 4 acre is left for cow grazing. Vegetables, pulses and coriander are mainly grown at the farm. Also there are 200 trees planted around the farmland. Mr. Sharma considers soil, water and seeds as most crucial aspect of natural farming that a farmer should not outsource anyone.
Improving soil fertility is first step in natural farming. "Soil fertility revolves around four factors namely desi cows, trees, birds and biomass. Natural farming is science and not superstition," he insists. To control soil fungus and improve soil fertility combination of cow-dung, cow-urine and jaggery is used. Elaborating further Mr. Sharma says, "I keep 200 liters drum in one acre space. Drum has mix of cow dung, cow urine and jaggery in the quantity 60 kg, 5 liters and 250 grams respectively. It is diluted with water and sprayed in one acre area correspondingly. As a result earthworms increased that made soil porous that improved plant growth with better oxygen, rain water and nutritive absorption by the roots."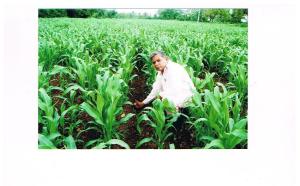 Solution to erratic rainfall and drought is need of the hour. It can be done by planting more wild trees and birds loving trees. Mr. Sharma explains, "Build thick forest on farm borders to create a micro climate. Trees will bring down the raising environmental temperature and problems related to rain water will be solved gradually. In addition dry leaves will give manure and will attract more birds."
Birds spoil the farm produce. Mr. Sharma reacts, "We have to change this mindset. More birds imply better pest management in natural way. It does not eat farm produce instead eats the micro-organisms." After studying he states, "Every single bird eats minimum 50 destructive insects in the farm. When bird eats insects it will never eat farm produce. Moreover, excreta of birds act as manure to soil." Lastly for soil management it is essential to covert biomass (farm waste like leaves, cow waste, crop residue etc) into manure with decomposition.
Next crucial aspect is to restore 100% rain water into ground water. He says, "Every geographical location in India will have a distinctive measure to utilize rain water for farming. It is done through greed locking technique for farms in plains and contour farming for farms in slopes. These techniques block the rain water in the farm and turn it into groundwater. It also makes soil fertile."
Seed is another important element of natural farming. "Understand how seeds are produced. Honey bees and living organism contribute for seed production through cross pollination," he says.
Mr. Sharma practices contour farming at his farm. He says, "Contour farming prevents the nutritive soil to wash away with rainfall. The spacing between contour and depth depends on the parameters of the crop grown in the farm. It varies with every crop."
Entire farm produce is sold on pre-orders. "Vegetable production is quite high hence I sell it through open market. I am not interested in direct sales as it is too time consuming. I am keen on research aspect of farming so need time for it," he shares.
Since 1975 Mr. Subash Sharma is into farming business. He has practiced both applied science farming that is chemical based farming and natural farming at his farm. "I experienced excessive failure in chemical based farming hence resumed traditional farming practices in 1994," says Mr. Subash Sharma. Based on his experience he quotes chemical farming as destructive farming where as natural farming as constructive farming and so are the financial returns as only losses plus debts and consistent growth respectively. He travels across the country to extend his services for those farmers who are keen to return back to the roots that is traditional farming practices.
Contact details-
Mr. Subash Sharma
Choti Gujari, Tiwasa Village – 445001
Yavatmal District, Maharashtra
Mobile – 09422869620